Collect Neuro's with brain training
From now on it's possible to earn points called Neuro's. It is possible to earn Neuro's by, for example, playing brain games or completing weekly or monthly goals. To create a clear picture of the Neuro point system, the goals to achieve to earn Neuro's and how many Neuro's you earn per event are described below:
10 Neuros for completing 1 brain game

30 Neuros for completing 1 workout (3 brain games contiguous)

200 Neuros for completing 20 brain games in 1 week

750 Neuro's for completing 75 brain games in 1 month

The users with a BrainGymmer Pro account receive twice the number of points per achieved goal, for example, 20 Neuro's for completing 1 brain game.

You can find the total balance of the Neuros you earn in this wallet. As shown in the image above, Jasper has earned a total of 135 Neuro's by achieving goals and by training with the BrainGymmer brain games.

Notifications
Do you want to achieve the earlier mentioned goals but don't know what you have to do to achieve this? There are notifications at the bottom of your screen about how far you are with a certain goal. An example of such a notification is shown in the image below, here you can see that 60 Neuro's can be earned by playing and completing 3 brain games today.

When you have achieved a goal, you will receive the deserved Neuros. In the image below, you can see the message that will be shown when 20 Neuro's are earned.

Leaderboard
On the Neuro leaderboard page, you can see how high you did score in earned Neuro's. The more Neuro's you earn, the higher your place will be on the leaderboard. When you spend Neuro's in the Neuroshop, your score for the leaderboard will remain the same. There are four different rankings, namely per day, per week, per month and total. The leaderboards look like the image below.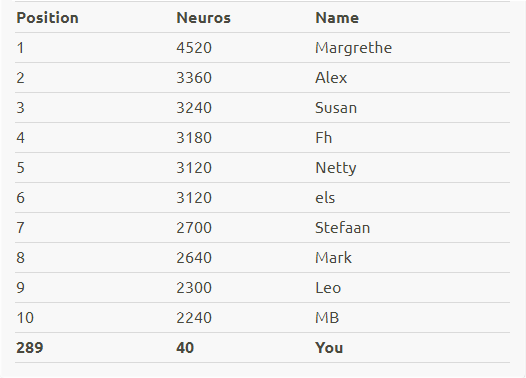 Earn the double number of Neuro's
Do you want to earn more Neuro's faster? This is possible with a BrainGymmer Pro account, as already mentioned in the explanation about obtaining points. With a BrainGymmer Pro account, you earn the double number of Neuro's in achieving goals or training with BrainGymmer brain games. Upgrade to BrainGymmer Pro to quickly collect the required number of Neuro's for the gift you want from our Neuro shop.
Start brain training and collect your first neuro's
Start your brain training with one of our brain games and earn your first Neuro's right away. Go to our brain game page to see what brain games suit you.